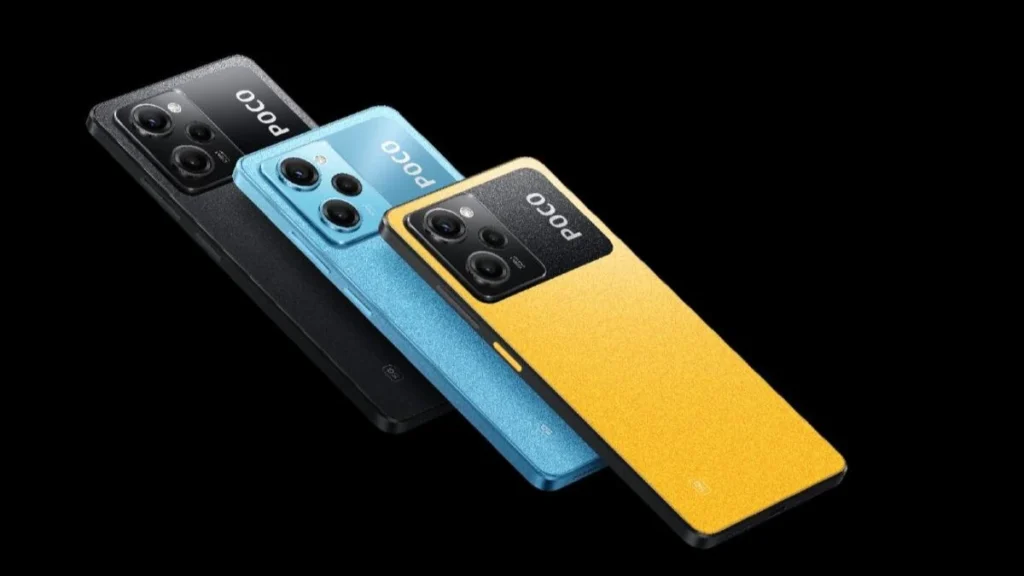 Price : Rs.- 22,999(6GB/128GB), Rs.- 24,999(8GB/256GB)
Poco X5 Pro 5G Specifications:
Display : 6.67-inch(16.94cm) Full HD+ Xfinity AMOLED Display
Processor : Qualcomm Snapdragon 778G Processor
RAM : 6GB/8GB
Storage : 128GB/256GB
Network Support : 2G, 3G, 4G, 4G VOLTE, 5G
Rear Camera : 108MP + 8MP + 2MP
Front Camera : 16MP Selfie camera
Fingerprint : Side mounted Fingerprint Scanner
Audio Jack : 3.5mm
Refresh Rate : 120 Hz
Battery : 5,000mAh
Charger : 67W Sonic Charging
Connectivity : USB Type-C, Bluetooth 5.1, Wi-Fi, Hotspot, GPS
Operating System: Android 12
Dimensions : W x H x D (76.03 x 162.91 x 7.9)mm
Weight : 181g
Color : Horizon Blue, Astral Black, Yellow
Warranty : 1 year on handsets and 6 months on accessories
In the ever-evolving landscape of smartphones, Poco has once again captured the spotlight with its latest innovation, the Poco X5 Pro 5G. This cutting-edge device stands as a testament to Poco's commitment to delivering exceptional technology at an unbeatable price point. Let's delve into the features, specifications, and why the Poco X5 Pro 5G is a game-changer in the Indian smartphone market.
Unmatched Performance
At the heart of the Poco X5 Pro 5G lies a powerhouse, the Qualcomm Snapdragon 778G Processor. This octa-core processor, combined with the Qualcomm Adreno 642L GPU, ensures seamless multitasking, smooth gaming experiences, and rapid app launches. The result? A device that doesn't just keep up with your pace but sets a new standard for performance in its class.
Immersive Visuals
Feast your eyes on the breathtaking display of the Poco X5 Pro 5G. Boasting a 6.67-inch Full HD+ Xfinity AMOLED Display with a 120Hz refresh rate, this smartphone guarantees vibrant colors, deep blacks, and an overall immersive visual experience. Whether you're streaming your favorite content or gaming on the go, the display quality of the Poco X5 Pro 5G is unparalleled.
5G Connectivity for the Future
Stay ahead in the digital race with the Poco X5 Pro 5G's robust 5G capabilities. This feature ensures lightning-fast download and upload speeds, making lag a thing of the past. As 5G networks continue to expand across India, owning a device with 5G compatibility is not just a luxury but a necessity for the tech-savvy consumer.
Versatile Camera System
Capture every moment in stunning detail with the Poco X5 Pro 5G's versatile camera system. The triple-camera setup includes a 108MP primary sensor, an 8MP ultra-wide-angle lens, a 2MP macro lens. Whether you're a photography enthusiast or just love snapping pictures of your daily adventures, this smartphone caters to all your photography needs. The Poco X5 Pro 5G comes with 16MP front camera.
Long-lasting Battery Life
Equipped with a substantial 5000mAh battery, the Poco X5 Pro 5G ensures that you won't be tethered to a charging cable throughout the day. The device's efficient power management, coupled with the 67W fast charging support, means you can spend more time using your phone and less time waiting for it to charge.
Sleek Design, Sturdy Build
Beyond its impressive internals, the Poco X5 Pro 5G boasts a sleek design that complements its robust build. The device's glass back and aluminum frame not only exude premium aesthetics but also provide durability, ensuring your investment stands the test of time.
Software Experience: Poco at Its Best
Running on Poco's Android 12 based on MIUI 14, the Poco X5 Pro 5G delivers a user-friendly and feature-rich software experience. With thoughtful optimizations and regular updates, Poco ensures that your device stays as snappy and efficient as the day you unboxed it.
Poco X5 Pro 5G Price
Now, let's address the elephant in the room – the price. Poco has once again disrupted the market by offering the Poco X5 Pro 5G at an unbelievably competitive price at around Rs. 22,999 for 6GB/128GB, Rs. 24,999 for 8GB/256GB in India. In a market saturated with options, this device stands out not only for its features but also for its affordability, making cutting-edge technology accessible to a broader audience.
Conclusion: Poco X5 Pro 5G – A Class of Its Own
In a world where choices abound, the Poco X5 Pro 5G emerges as a clear winner, redefining what users can expect from a mid-range smartphone. From its powerful performance to its stunning display and versatile camera system, every aspect of this device has been meticulously crafted to exceed expectations.
Don't settle for the ordinary; embrace the extraordinary with the Poco X5 Pro 5G.