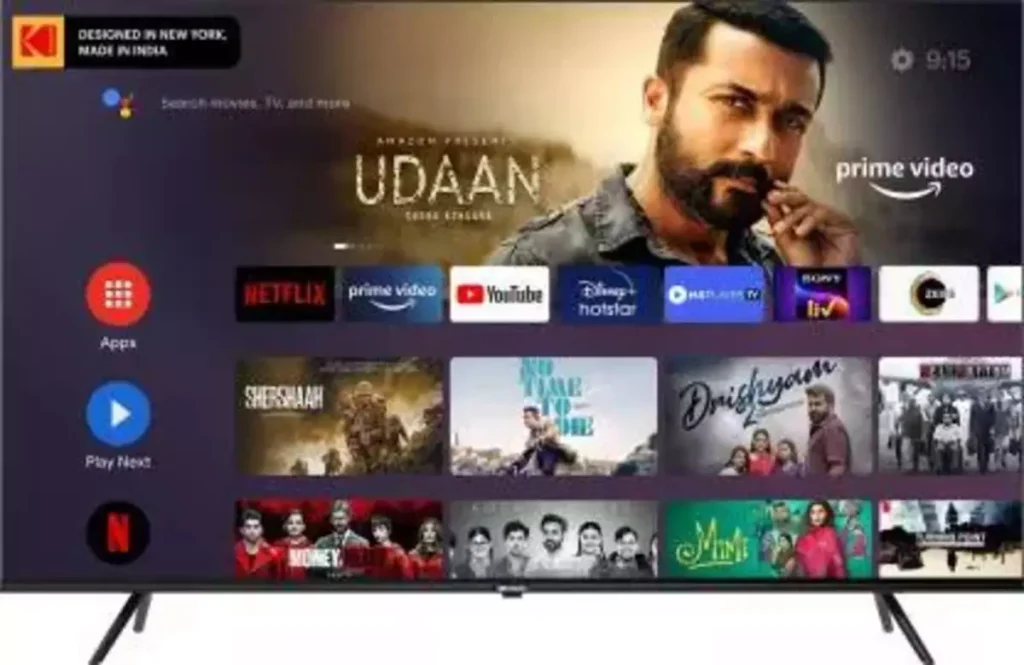 Kodak is a well-known brand in the world of electronics, and their latest offering, the Kodak 126 cm (50 inches) 4K Ultra HD Smart Android LED TV 50CAPRO5066, is a top-of-the-line television that promises to deliver an unparalleled viewing experience.
The 50CAPRO5066 is a 4K Ultra HD TV, which means that it has a resolution of 3840×2160 pixels. This is four times the resolution of a Full HD TV, and it results in incredibly sharp and detailed images. The TV also supports HDR (High Dynamic Range) content, which further enhances the picture quality by improving the contrast and color accuracy.
The TV runs on the Android operating system, which means that it has access to a wide range of apps and streaming services such as Netflix, Amazon Prime Video, and YouTube. This allows you to easily access your favorite content without the need for additional devices such as a Fire Stick or Chromecast. The TV also comes with built-in Google Assistant and Amazon Alexa, which lets you control the TV with your voice.
One of the standout features of the 50CAPRO5066 is its design. The TV has a slim and sleek profile, with a minimalistic bezel that keeps the focus on the screen. The TV also has a stand that allows you to adjust the angle of the screen, so you can get the perfect viewing experience no matter where you're sitting.
The 50CAPRO5066 also has a number of connectivity options, including HDMI, USB, and Bluetooth. This allows you to connect other devices such as a gaming console, a soundbar, or a streaming device. The TV also has built-in Wi-Fi, which makes it easy to connect to your home network and access the internet.
The Kodak 126 cm (50 inches) 4K Ultra HD Smart Android LED TV 50CAPRO5066 is available for purchase in India for a price of around Rs. 30,000. This makes it a great value for money, considering the high-quality picture and the wide range of features that it offers. If you're looking for a top-of-the-line TV that will give you an immersive viewing experience, the 50CAPRO5066 is definitely worth considering.
In summary, the Kodak 50CAPRO5066 is a high-end 4K Ultra HD smart TV, with an android operating system that support multiple apps, google and Alexa voice control, sleek design and multiple connectivity options. It is priced at around Rs.40,000, making it a great value for money.