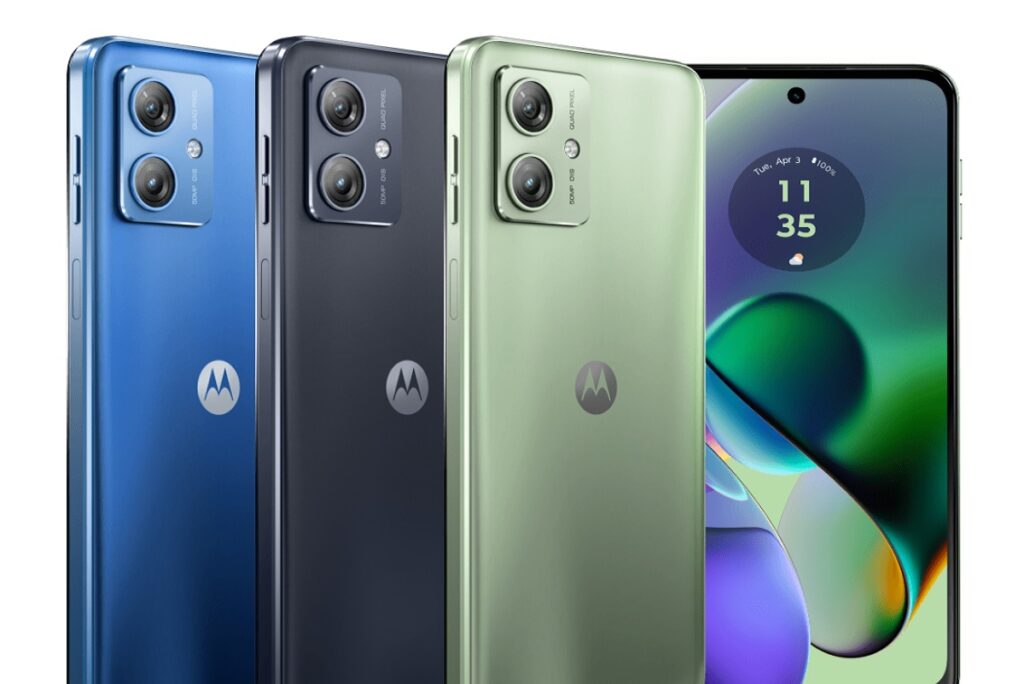 Price : Rs.- 15,999(8GB/128GB), Rs.- 18,999(12GB/256GB)
Motorola g54 5G Specifications:
Display : 6.5-inch(16.51cm) Full HD+ Display
Processor : MediaTek Dimensity 7020
RAM : 8GB/12GB
Storage : 128GB/256GB + Expandable Upto 1 TB
Network Support : 2G, 3G, 4G, 4G VOLTE, 5G
Rear Camera : 50MP + 8MP
Front Camera : 16MP Selfie camera
Fingerprint : Side mounted Fingerprint Scanner
Audio Jack : 3.5mm
Battery : 6,000mAh
Charger : 33W Charger
Operating System: Android 13
Dimensions : W x H x D (73.82 x 161.56 x 8.89)mm
Weight : 192g
Color : Midnight Blue, Mint Green, Pearl Blue
Warranty : 1 year on handsets and 6 months on accessories
In the dynamic world of mobile technology, Motorola has once again made great strides with its latest offering, the Motorola g54 5G. This sleek and powerful smartphone has attracted a lot of attention, Thanks to its impressive Specifications and pocket-friendly price tag. This article will delve into the features, specifications and pricing of the Motorola g54 5G, examining why it has become a consumer favorite in India.
Importance of 5G in India
Before exploring the specifics of the Motorola g54 5G, it is important to understand the importance of 5G Technology in India. With the growing demand for high-speed internet and seamless connectivity, 5G has the Potential to transform how we use our smartphones From high-speed data transfers to reduced latency , 5G Promises a wide range of benefits for consumers and businesses.
Highlights of Motorola g54 5G
Let's take a closer look at what makes the Motorola g54 5G stand out in the crowded smartphone market.
5G connectivity
The standout feature of this smartphone is definitely its 5G capability. 5G support allows users to enjoy lightning-Fast internet speeds, making online content, gaming and video calling easier than ever.
Incredible performance
The Motorola g54 5G features an impressive display with vibrant colors and sharp textures. Whether you're Watching your favorite over-the-top show or surfing social media, the 6.5-inch(16.51cm) Full HD+ Display with 120Hz refresh rate delivers an immersive experience.
Determining power and communication
Packed with a MediaTek Dimensity 7020 processor and ample 8GB/12GB RAM, the smartphone handles multiple Tasks effortlessly. Users can seamlessly switch between apps, play graphics-intensive games, and run resource-Intensive applications without any performance hit.
For connectivity, the Motorola g54 5G gets Wi-Fi, Bluеtooth, 3. 5mm hеadphonе jack, USB Typе-C, Mobilе Hotspot, GPS and more.
Better camera
The smartphone features a versatile camera setup, with a 50MP main camera and an 8MP ultra wide angle camera. This integration allows users to easily capture a wide range of topics and features. The main camera delivers sharp Detailed images even in low light.
The 16MP selfie camera housed in a punch-hole cutout on the front gives clear and vibrant selfies. It also supports AI beauty products for their picture perfect selfies.
Long battery life
Worried about your phone running out of battery during the day? The Motorola g54 5G features a Long-lasting 6,000mAh battery that keeps you connected without the need to constantly recharge. The device also supports 33W Fast charging, allowing you to quickly recharge and re-use your smartphone.
Beautiful design
Motorola is known for its looks and performance, and the g54 5G lives up to this reputation. This smartphone is Thin, lightweight, and fits comfortably in your hand.
Motorola g54 5G price
Now let's talk about Motorola g54 5G pricing in India. One of the most interesting is its affordability. motorola has Been able to fit state-of-the-art technology into an affordable budget, making it accessible To a wide range of Customers.
According to the latest rumors, the Motorola g54 5G will be available in India at an introductory price of INR 15,999 For 8GB/128GB and INR 18,999 for 12GB/256GB. This competitive pricing is very attractive in The market, as it Enables 5G technology to reach more Indian customers.
Plеasе note that pricеs may change dеpеnding thе rеgion with any ongoing promotions or discounts.
Conclusion
To conclude, the Motorola g54 5G is an impressive addition to the smartphone scene in India. It combines the Power Of 5G connectivity with amazing features, all at a price that won't hurt your budget. Whether you are a tech Enthusiast or just want an upgrade, the Motorola g54 5G is worth considering.
The Motorola g54 5G is an attractive option for those who want to embrace the future of mobile Technology Without breaking the bank.