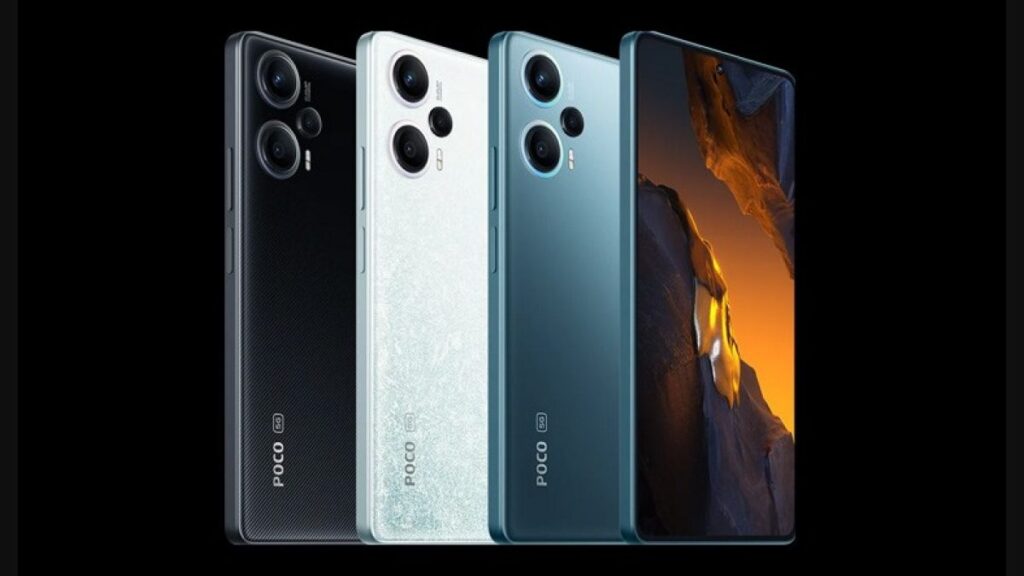 POCO F5 5G Specifications:
Display : 6.67-inch(16.94cm) Full HD+ Display
Processor : Snapdragon 7+Gen 2
RAM : 8GB/12GB
Storage : 256GB
Rear Camera : 64MP + 8MP + 2MP
Front Camera : 16MP
Battery : 5000mAh
Operating System: Android 13
Welcome to the world of POCO F5 5G, where speed and performance meet innovation and style. In this article, we will delve into the exciting features and capabilities of the POCO F5 5G smartphone. Get ready to experience lightning-fast 5G connectivity, stunning visuals, and a powerhouse of performance in the palm of your hand. Let's explore the POCO F5 5G and see why it's a game-changer in the world of smartphones.
POCO F5 5G: Unleashing the Power

The POCO F5 5G is a masterpiece in terms of design and performance. Let's take a closer look at its key features and functionalities:
Blazing Fast 5G Connectivity
The POCO F5 5G brings you the next generation of connectivity with its 5G capabilities. Say goodbye to lag and buffering as you browse the internet, stream videos, or play online games. The POCO F5 5G ensures a seamless and ultra-fast experience, allowing you to stay connected at all times.
Stunning Display
Immerse yourself in a visual treat with the POCO F5 5G's stunning 6.67-inch(16.94cm) Full HD+display with 120 Hz refresh rate. Featuring a large and vibrant AMOLED screen, every image and video comes to life with vivid colors and sharp details. Whether you're watching movies, playing games, or simply browsing the web, the POCO F5 5G offers an unparalleled visual experience.
Powerful Performance
Equipped with a high-performing Snapdragon 7+Gen 2 processor and ample RAM, the POCO F5 5G delivers exceptional speed and multitasking capabilities. Switch between apps seamlessly, run demanding games effortlessly, and experience smooth performance even with resource-intensive tasks. The POCO F5 5G ensures you never miss a beat.
Captivating Camera
Capture your memories in stunning detail with the POCO F5 5G's advanced camera system. The high-resolution 64MP primary camera and 8MP ultrawide camera and a 2MP macro camera allow you to take breathtaking photos and videos in any setting. The phone's front is an 16-megapixel camera that is perfect for taking selfies and making video calls.
All-Day Battery Life
Worried about running out of battery? With the POCO F5 5G, you can leave those worries behind. Its powerful 5,000mAh battery ensures that you can go throughout your day without constantly reaching for a charger. Whether you're browsing, gaming, or watching videos, the POCO F5 5G keeps up with your demands.
Enhanced Security
Your data and privacy are of utmost importance, and the POCO F5 5G takes that seriously. With advanced security features such as facial recognition and an side fingerprint scanner, you can be confident that your device and personal information are secure. Unlock your phone with a glance or a touch.
Ample Storage
Never worry about running out of storage space with the POCO F5 5G. With generous 256GB internal storage capacity, you can store all your photos, videos, apps, and files without compromising on performance. Expandable storage options are also available, giving you even more room to keep your digital life organized.
Sleek and Ergonomic Design
The POCO F5 5G not only packs a punch in terms of performance but also in terms of design. Its sleek and ergonomic design ensures a comfortable grip and a stylish appearance. The premium materials used in its construction give it a sophisticated look that stands out from the crowd.
Seamless User Experience
Navigating through the POCO F5 5G is a breeze, thanks to its intuitive user interface. The device is packed with features and customization options that cater to your preferences. From gesture controls to dark mode, the POCO F5 5G offers a seamless and personalized user experience.
Connectivity and Entertainment Options
Stay connected and entertained with the POCO F5 5G. The device offers a wide range of connectivity options, including NFC, Bluetooth, and Wi-Fi, allowing you to connect with other devices and accessories effortlessly. Additionally, the POCO F5 5G supports high-quality audio and video playback, making it an entertainment powerhouse.
Poco F5 5G Price
As of its release, the POCO F5 5G is available in different storage variants, each with its corresponding price. Here is an approximate price range for the POCO F5 5G in India:
POCO F5 5G 8GB/256GB variant : ₹30,000
POCO F5 5G 12GB/256GB variant: ₹35,000
Please keep in mind that these prices are approximate and can vary based on factors such as discounts, promotions, and location. It's always a good idea to check with authorized retailers or e-commerce platforms for the most accurate and up-to-date pricing information.
Conclusion
The POCO F5 5G sets a new standard for speed, performance, and innovation in the smartphone industry. With its blazing-fast 5G connectivity, stunning display, powerful performance, and advanced camera system, it offers an unparalleled user experience. Whether you're a tech enthusiast, a gamer, or a photography enthusiast, the POCO F5 5G has something to offer. Elevate your smartphone experience with the POCO F5 5G and redefine what's possible.
FAQs about POCO F5 5G
Q1. Does the POCO F5 5G support expandable storage?
Yes, the POCO F5 5G supports expandable storage. You can use a microSD card to expand the storage capacity of the device.
Q2. Can the POCO F5 5G capture 4K videos?
Yes, the POCO F5 5G is capable of recording videos in 4K resolution. You can capture your precious moments with stunning clarity.
Q3. Does the POCO F5 5G have a headphone jack?
Yes, 3.5mm headphone jack
Q4. Is the POCO F5 5G water-resistant?
The POCO F5 5G is not officially water-resistant. It is recommended to keep the device away from water and moisture to prevent any damage.
Q5. Can the POCO F5 5G run demanding games smoothly?
Yes, the POCO F5 5G is equipped with a powerful processor and ample RAM, making it capable of running demanding games smoothly without lag or performance issues.
Q6. Does the POCO F5 5G support wireless charging?
No