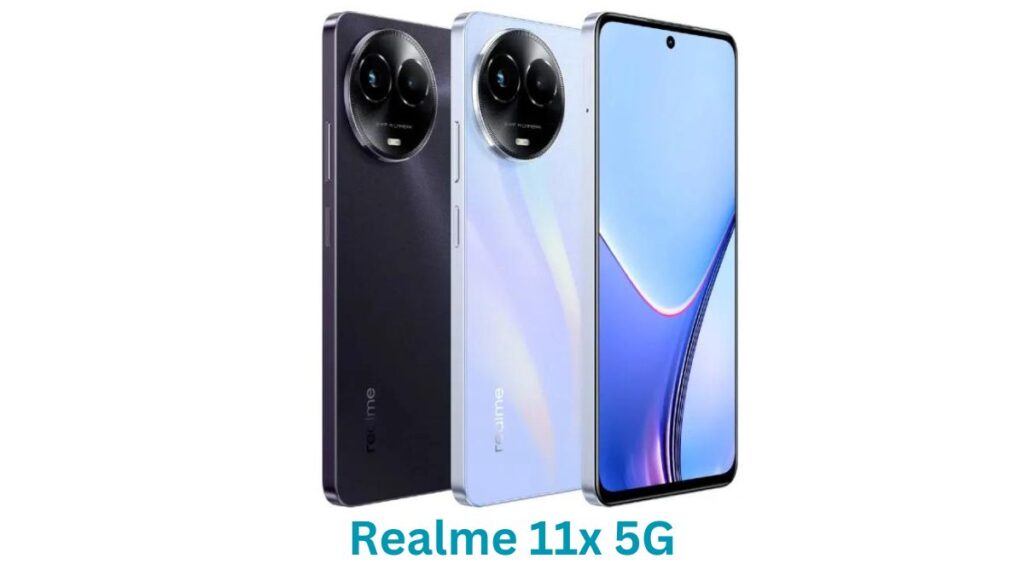 Price : Rs.- 12,999 (6GB/128GB), Rs.- 15,999 (8GB/128GB)
Realme 11x 5G Specifications:
Display : 6.72-inch(17.07cm) Full HD+
Processor : Media-Tech Dimensity 6100+ Processor
RAM : 6GB/8GB
Storage : 128GB
Operating System: Android 13
Network Support : 2G, 3G, 4G, 4G VOLTE, 5G
Rear Camera : 64MP + 2MP
Front Camera : 8 MP Selfie camera
Sim Type : Dual sim
Fingerprint : Side Fingerprint Sensor
Battery : 5000mAh
Charger : 33W SUPERVOOC Charger
Connectivity : USB 2.0 Type-C, Bluetooth 5.2, Wi-Fi, Hotspot, GPS
Dimensions : W x H x D (76 x 165.7 x 7.89)mm
Weight : 190g
Color : Purple Dawn, Midnight Black
In the rapidly evolving smartphone landscape, Realme smartphone has successfully established itself as a brand synonymous with quality and affordability. The Realme 11x 5G stands as a prime example of this commitment, offering Indian consumers an unparalleled fusion of power, elegance, and connectivity. Featuring an array of impressive features coupled with an enticing price point, the Realme 11x 5G is poised to revolutionize the smartphone experience for both tech enthusiasts and everyday users alike.
Exceptional Performance
Central to the Realme 11x 5G's capabilities is its robust Media-Tech Dimensity 6100+ Processor. This powerhouse ensures seamless multitasking and responsive performance, enabling users to effortlessly navigate between applications, engage in graphics-intensive gaming, and stream high-definition content. With its 6GB/8GB RAM, 128GB storage the device further enhances its multitasking prowess, ensuring a smooth user experience.
Vibrant Display
The Realme 11x 5G boasts a breathtaking 6.72-inch(17.07cm) Full HD+ LCD display with 120Hz Refresh Rate, delivering vibrant colors, deep blacks, and impeccable contrast. Its Full High Definition Plus (FHD+) resolution guarantees sharp visuals, transforming movies, games, and photos into immersive visual experiences. Whether you're indulging in multimedia content or immersing yourself in gaming adventures, the Realme 11x 5G's display ensures an unparalleled viewing experience.
Capture Every Moment
Equipped with a versatile dual-camera setup, the Realme 11x 5G empowers users to capture life's moments in stunning detail. The 64MP primary camera captures sharp and detailed images, while the 2MP Portrait Camera lens widens the perspective, offering creative freedom in photography. On the front, the 8MP selfie camera guarantees captivating selfies for social media enthusiasts.
Revolutionary 5G Connectivity
As the name suggests, the Realme 11x 5G supports 5G connectivity, ushering in a new era of rapid internet speeds and minimal latency. This translates to smoother online gaming experiences, buffer-free streaming, and swift downloads and uploads. With 5G becoming increasingly prevalent, the Realme 11x 5G ensures users stay at the forefront of technology, enjoying the benefits of next-generation connectivity.
Long-lasting Battery Life
The Realme 11x 5G features a robust 5,000mAh battery that promises enduring usage throughout the day on a single charge. Whether you're working, gaming, or streaming content, the device keeps up with your active lifestyle. Furthermore, the device supports 33W SUPERVOOC fast charging, enabling rapid battery replenishment, ensuring minimal downtime.
Elegant Design
In addition to its exceptional features, the Realme 11x 5G boasts a sleek and stylish design, captivating users with its slim profile and lightweight construction. The device is available in captivating color options, adding a touch of sophistication to its aesthetic appeal. Its design not only enhances its visual appeal but also contributes to a comfortable and enjoyable user experience.
Realme 11x 5G Price in India
What adds to the Realme 11x 5G's allure is its accessible price point. Realme, renowned for its budget-friendly yet feature-packed smartphones, delivers once again with the Realme 11x 5G. With a starting price of Rs- 12,999 for6GB/128GB and Rs- 15,999 for 8GB/128GB, this device offers incredible value for money, making it accessible to a broad spectrum of users.
Conclusion
The Realme 11x 5G stands as a testament to Realme's dedication to delivering exceptional smartphones that blend high performance, innovative features, and affordability. Its powerful processor, captivating display, versatile camera setup, 5G capabilities, long-lasting battery life, and stylish design culminate to create a device that exceeds expectations. Whether you're a tech enthusiast craving peak performance or a casual user seeking a reliable and chic device, the Realme 11x 5G caters to all needs without straining your budget. With its enticing price and impressive features, the Realme 11x 5G is set to make a significant impact on the Indian smartphone market, redefining the smartphone experience for users across the country.