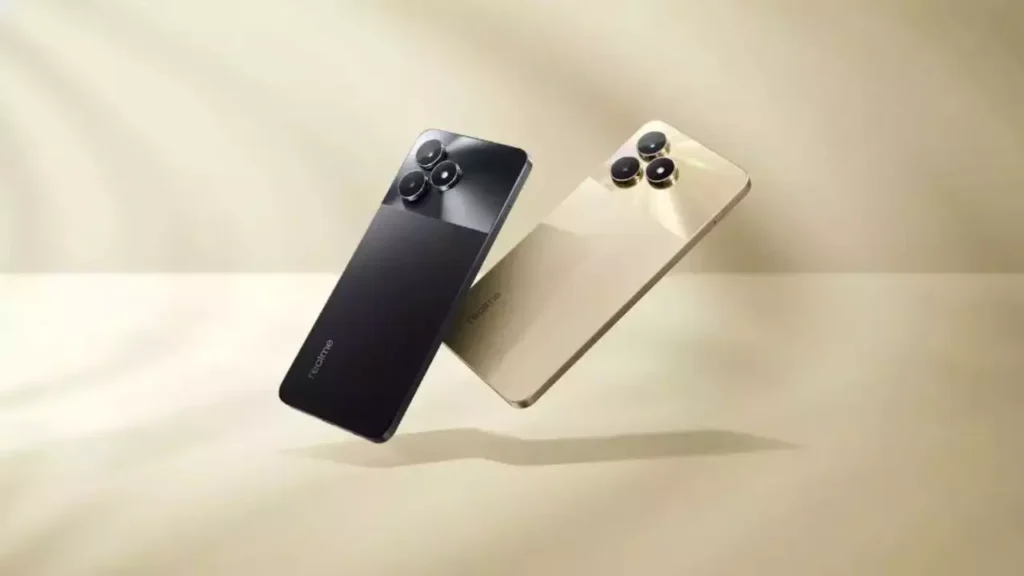 Realme C53 Specifications:
Display : 6.74-inch(17.13cm) HD LCD Display
Processor : T612 Octa Core Processor
RAM : 4GB/6GB
Storage : 64GB/128GB
Rear Camera : 108MP + 2Mp
Front Camera : 8MP Selfie camera
Battery : 5000mAh
Charger : 18W
Operating System: Android 13
Dimensions : W x H x D (76.67 x 167.16 x 7.99)mm
Weight : 186g
Color : Champion Black, Champion Gold
Price : INR 9,999(4GB/128GB), INR 10,999(6GB/64GB)
In the rapidly expanding Indian smartphone market, Realme has consistently launched non-budget products that have had a huge impact. The Realme C53, the latest addition to the C-series, continues this trend. Set at an affordable price to meet the demands of budget-conscious customers, this Realme smartphone promises to deliver amazing features without straining your wallet.
Realme C53 Price in India
Let's start by talking about the price of the Realme C53. This smartphone is available in India at an incredibly affordable starting price of just ₹9,999. This aggressive pricing strategy underscores Realme's commitment to deliver high-quality smartphones that cater to a wide range of consumers.
Display and Design
One of the standout features of the Realme C53 is its 6.74-inch HD display. While it doesn't offer Full HD resolution, the display is bright and produces sharp images, making it suitable for video viewing, web browsing and gaming The layout of the phone is sleek and elegant, with a flat profile and colors that it's a nice option to stand out from the competition.
Performance
Under the hood, the Realme C53 is powered by the T612 Octa-Core Processor. This eight-core chipset ensures smooth day-to-day performance and handles multiple tasks with ease. Whether you're browsing social media, managing content or running apps, the Realme C53 fits your needs.
Camera Capabilities
The Realme C53 features a dual-camera setup on the back, which includes a 108MP primary camera and a 2MP depth sensor. While it may not offer the most advanced camera setup in the price range, it is more than capable of taking decent photos and videos in lighting conditions the 8MP front camera takes satisfying selfies and supports AI aesthetics for your photos the species are large.
Battery life
Battery life is a top priority for smartphone users, especially on the go. The Realme C53 excels in this department, thanks to a 5000mAh battery, coupled with 18W fast charger. This ample battery capacity ensures that you can easily get through a full day of use without constantly reaching for a charger.
User experience
Running on Android 13, the Realme UI is pre-installed on Realme C53. This user-friendly interface provides an intuitive and intuitive experience, with customizable elements and gesture navigation options. Realme provides regular software updates to ensure your device is up to date with the latest security features and advancements.
Storage and Connectivity
The Realme C53 comes in two storage variants: 4GB RAM with 128GB internal storage and 6GB RAM with 64GB internal storage. Both variants support exandable storage via a dedicated microSD card slot, allowing you to store more photos, apps and videos. For connectivity, the phone gets 4G LTE, Wi-Fi, Bluetooth, 3.5mm headphone jack and USB Type-C.
Conclusion
In conclusion, the Realme C53 offers an attractive option for budget-conscious consumers in India. Its impressive price, along with its impressive specifications, good battery life and sleek design, position it as a strong contender in the entry-level smartphone market, even if it doesn't quite compete with flagship models on camera quality and high -end ho a su.
If you're in the market for a smartphone that gives you value for money without compromising on features, the Realme C53 is definitely a solid choice. Competitive pricing starting from ₹9,999 is an example of Realme's commitment to make the latest technology accessible to all consumers in India.