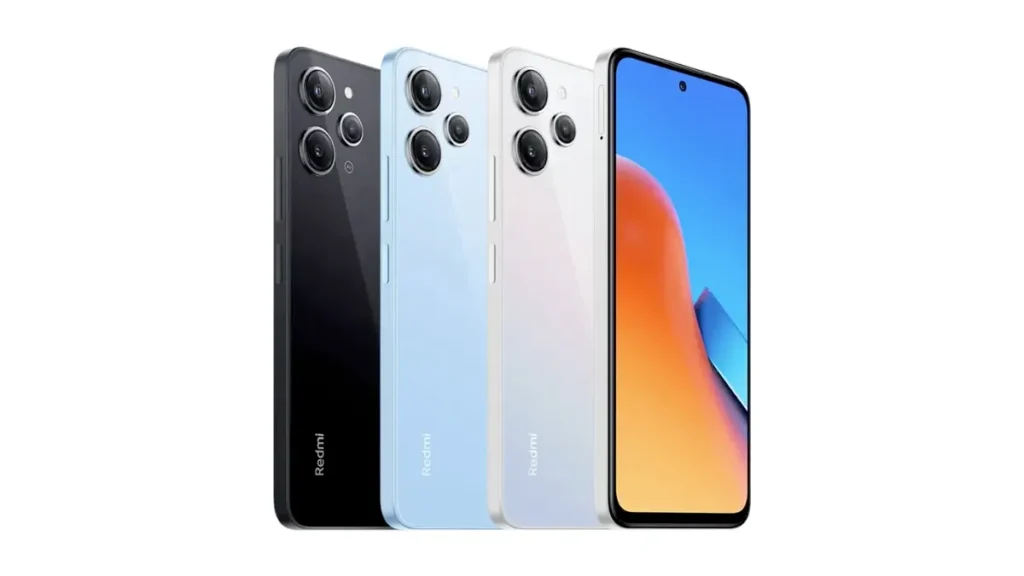 Redmi 12 Specifications:
Display : 6.79-inch(17.25cm)Full HD+ Display
Processor : MediaTec Helio G88 Octa Core Processor
RAM : 4GB/6GB
Storage : 128GB + Up to 1TB with micro SD Card
Network Support : 2G, 3G, 4G, 4G VOLTE
Rear Camera : 50MP + 8MP + 2Mp
Front Camera : 8MP Selfie camera
Fingerprint : Side mounted Fingerprint Scanner
Battery : 5000mAh with 18W Fast Charger
Charger : 18W
Operating System: Android 13
Dimensions : W x H x D (76.28 x 168.6 x 8.17)mm
Weight : 198.5g
Color : Jade Black, Moonstone Silver, Pastel Blue
Price : INR 9,999(4GB/128GB), INR 11,499(6GB/128GB)
In the ever-evolving realm of smartphones, Xiaomi's Redmi Smartphone series has consistently pushed the boundaries of affordability while offering a remarkable array of features. The Redmi 12, the most recent addition to this esteemed lineup, continues this legacy by delivering an enticing package of specifications at a price that won't break the bank. In this article, we will delve into the Redmi 12, its essential specs, and its price in India.
Performance at Its Best
The Redmi 12 is powered by a robust MediaTek Helio G88 processor, coupled with either 4GB or 6GB of RAM with 128GB storage, depending on your chosen variant. This hardware configuration guarantees a seamless multitasking experience, with swift app launches and smooth operation, ensuring that the phone is well-equipped for everyday tasks and even gaming.
A Visual Delight
The Redmi 12 flaunts a striking 6.79-inch Full HD+ display with Corning Gorilla Glass Protection that offers vivid colors and sharp visuals. With its 90Hz refresh rate, this device ensures that scrolling and animations are impeccably smooth, providing an immersive visual experience, whether you're browsing the web, streaming content, or gaming.
Photography Redefined
One of the standout features of the Redmi 12 is its impressive camera setup. The triple-camera system on the rear includes a 50-megapixel primary sensor, an 8-megapixel ultra-wide-angle lens, and a 2-megapixel macro lens. This versatile setup enables you to capture breathtaking photos in various scenarios, from sweeping landscapes to intricate close-ups.
The front-facing 8-megapixel selfie camera ensures you can take high-quality selfies and video calls.
Endurance Matters
Powering the Redmi 12 is a robust 5,000mAh battery, providing ample stamina to last an entire day of usage. Xiaomi's energy-efficient MIUI maximizes battery life, ensuring peace of mind during extended usage. When it's time to recharge, the phone supports 18W fast charging, allowing you to quickly top up the battery.
User-Friendly Software
The Redmi 12 runs on Android 13 with MIUI 14 as its user interface. MIUI offers a wide range of features to enhance your smartphone experience, whether you want to multitask using split-screen mode or customize your device with various themes and wallpapers.
Connectivity and Storage
The Redmi 12 ensures you stay connected with its 4G connectivity, offering reliability even in regions with limited 5G coverage. Moreover, it features a dedicated microSD card slot, allowing you to expand storage beyond the built-in 128GB.
The phone gets Wi-Fi, Bluetooth, 3.5mm headphone jack and USB Type-C, Mobile Hotspot. 3.5mm headphone jack, GPS and more.
Redmi 12 Price
Now, let's delve into the critical aspect of any budget-friendly smartphone—the price. Xiaomi has consistently delivered value for money, and the Redmi 12 is no exception. In India, the Redmi 12 is priced competitively, making it a compelling option for budget-conscious consumers. The starting price for the base variant with 4GB of RAM and 128GB of storage is approximately ₹9,999, while the higher-end variant with 6GB of RAM and 128GB of storage is priced around ₹11,499.
Conclusion
The Redmi 12 represents another remarkable addition to Xiaomi's Redmi series. It combines robust performance, an engaging display, versatile cameras, and long-lasting battery life—all at a price point that makes it an appealing choice. With its competitive pricing in India, the Redmi 12 offers exceptional value for tech-savvy consumers looking for an affordable smartphone that doesn't compromise on features.