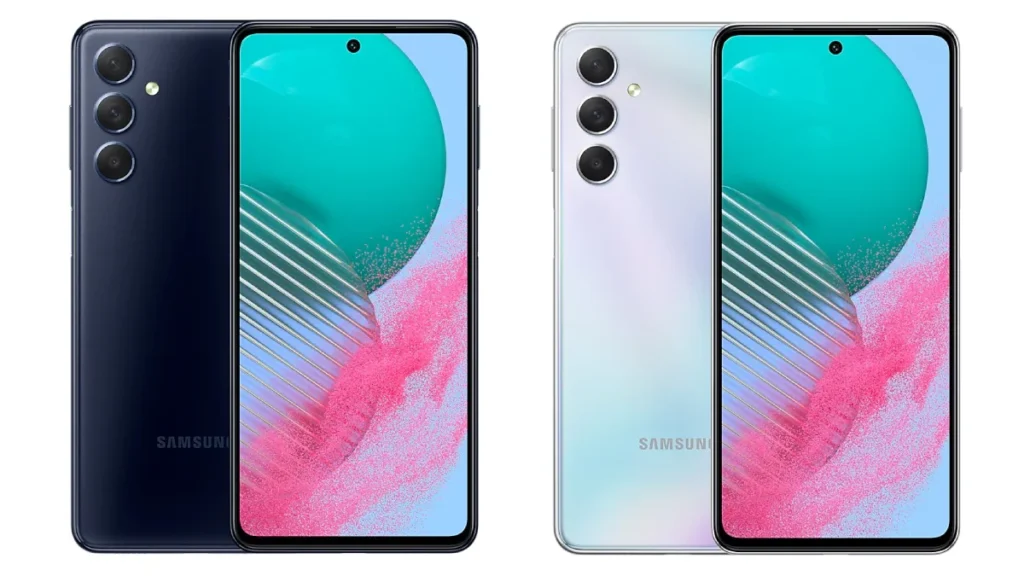 Samsung Galaxy F54 5G Specifications:
Display : 6.7-inch(17.02cm) Full HD+ Super AMOLED Plus
Processor : Samsung Exynos 1380
RAM : 8GB
Storage : 256GB
Rear Camera : 108MP + 8MP + 2Mp
Front Camera : 32MP Selfie camera
Battery : 6000mAh
Operating System: Android 13
Color : Meteor Blue, Stardust Silver
Price : INR 29,999
Samsung has always been at the forefront of the fast-paced world of smartphones, constantly pushing the boundaries of innovation, and ensuring access to a wide range of consumers Their latest offering, the Samsung Galaxy F54 5G, is no exception. This device promises to bridge the gap between performance and affordability, making it a compelling choice for technology enthusiasts and thrifty In this regard will take a closer look at the Samsung Galaxy F54 5G and its affordability in India.
performance
The Samsung Galaxy F54 5G is powered by a powerful Samsung Exynos 1380 processor, which ensures lag-free performance in all your daily tasks, from browsing the web to using the latest apps and games Multitasking is a breeze, thanks to its 6GB or 8GB RAM options You can switch between apps seamlessly. Whether you're a performance-focused or gaming enthusiast, the F54 5G has the performance chops to meet your needs.
Display
One of the standout features of this smartphone is its impressive display. The Galaxy F54 5G features a 6.7-inch FHD+ Super AMOLED display that offers rich and vibrant colors. Whether you're binge-watching your favorite series or scrolling through your social media feeds, the experience is no different. The device also supports a high refresh rate, ensuring smooth scrolling and reducing motion blur for gaming and other high-end activities.
Camera systems
Capture your precious moments with the versatile Samsung Galaxy F54 5G camera system. It has a three-camera setup on the back, with a 108MP primary camera, an 8MP ultra-wide-angle lens and a 2MP depth sensor. Whether you take stunning pictures or stunning portraits, this smartphone has you covered. There is a 32MP selfie camera on the front to ensure your selfies are Instagram-ready.
Long battery life
The F54 5G features a powerful 6000mAh battery that can easily last a whole day on a single charge, even with heavy usage. Additionally, the device supports 25W fast charging, ensuring that you spend less time connected to outlets and more time using your phone. Say goodbye to battery worries and enjoy uninterrupted use throughout the day.
5G connectivity
As the name suggests, the Samsung Galaxy F54 5G brings the power of 5G connectivity to your fingertips. Enjoy blazing fast download and upload speeds, smoother video streaming and low latency online gaming. With 5G, you can future-proof your smartphone experience and stay ahead of the curve in the digital age.
Regular updates
Powered by Samsung's One UI , based on Android 13, the Galaxy F54 5G offers a smooth and intuitive connectivity. Samsung is also known for promising regular software updates, ensuring that your device is secure and in line with the latest trends
Security and Connectivity
The F54 5G features an side fingerprint sensor that allows for quick and secure unlocking of your device. This biometric authentication method ensures that only authorized users can access your phone.
Samsung Galaxy F54 5G is engineered to keep you connected in a world that relies on seamless communication and fast 5G internet speeds.The OnePlus 11 5G supports 5G connectivity, Wi-Fi, Bluetooth, Mobile Hotspot, OTG, NFC and USB type-C and more.
Samsung Galaxy F54 5G Price
Now, let's talk about the most exciting aspect of the Samsung Galaxy F54 5G – its price in India. Samsung has always strived to offer high-quality devices at competitive prices, and the F54 5G is no exception. With a starting price of INR-29,999, this smartphone is an incredible value for the features and performance it delivers. Samsung's dedication to affordability without compromising on quality is evident in this offering.
Conclusion
The Samsung Galaxy F54 5G is a stellar addition to Samsung's impressive lineup of smartphones. It combines powerful performance, a stunning display, a versatile camera system, long-lasting battery life, and 5G connectivity, all while remaining budget-friendly. With its competitive price in India, the F54 5G is poised to be a popular choice among consumers looking for a high-quality smartphone without breaking the bank. Whether you're a tech enthusiast or a budget-conscious shopper, the Samsung Galaxy F54 5G is definitely worth considering for your next smartphone purchase.