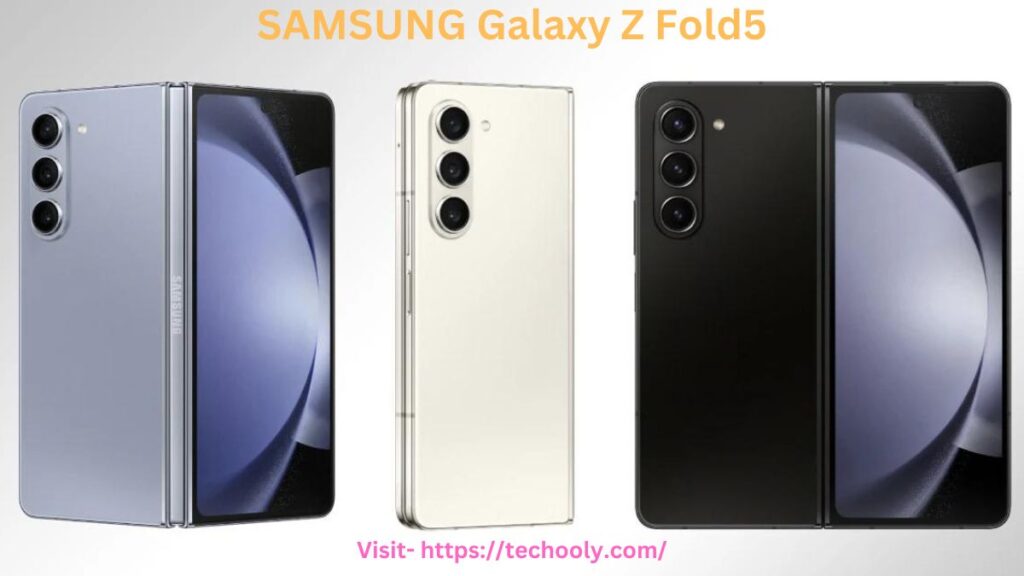 Price : Rs.- 154,999(12GB/256GB), Rs.- 164,999(12GB/512GB), Rs.- 184,999(12GB/1TB)
Samsung Galaxy Z Fold5 Specifications:
Display : 6.2-inch(Folded), 7.6-inch(Unfolded) Full HD+ Dynamic AMOLED 2X
Processor : Qualcomm Snapdragon 8 Gen 2
RAM : 12GB
Storage : 256GB/512GB/1TB
Network Support : 2G, 3G, 4G, 4G VOLTE, 5G
Rear Camera : 50MP + 12MP + 10MP
Front Camera : 4MP Selfie camera
Fingerprint : yes
Battery : 4400mAh
Operating System: Android 13
Dimensions : W x H x D (129.9 x 154.9 x 13.4)mm
Weight : 253g
Color : Icy Blue, Phantom Black,
In an ever-evolving smartphones landscape, Samsung continues to set new standards with its innovative technology. The Samsung Galaxy Z Fold5 is a testament to an unwavering commitment to innovation, redefining the essence of mobile technology. With advanced features and a design that defies convergence, the Galaxy Z Fold5 stands as a beacon of Samsung's commitment to quality.
Structure
The Galaxy Z Fold5 represents a technological marvel, with a folding design that seamlessly transforms from a small phone to a spacious tablet. Its 7.2-inch foldable AMOLED display delivers vibrant colors and sharp contrast, creating an immersive viewing experience. The device is reinforced with ultra-thin glass, ensuring durability as it continues to evolve.
Performance
Underneath its sleek exterior, the Galaxy Z Fold5 is powered by the latest Qualcomm Snapdragon 8 Gen 2 processor, with 12GB of RAM, ensuring smooth and efficient multitasking Whether you're gaming, whether you're streaming video, or doing editing, this powertrain handles it all effortlessly.
Camera capabilities available
Known for its camera technology, the Samsung Galaxy Z Fold5 has a versatile three-camera setup. It features a 50MP high-resolution special sensor, an 12MP ultra-wide lens, and a 10MP cover camera, enabling stunning images in lighting conditions The device's innovative folding design allows you to carry cameras this powerful uses for both photography and regular selfies, It offers unparalleled flexibility
Software experience
Powered by Samsung's user-friendly One UI, layered on top of the latest version of Android, the Galaxy ZFold5 ensures a simple and intuitive user interface. The software is optimized to take advantage of the full potential of a foldable display, enabling effortless multitasking and productivity.
Galaxy Z Fold5 Price
The burning question for many tech enthusiasts is the price of this amazing device in India. Samsung has strategically priced the Galaxy Z Fold5 in order to appeal to a wider audience. According to the latest update, the Galaxy Z Fold5 will be available in India at an attractive price of Rs. 154,999(12GB/256GB), Rs. 164,999(12GB/512GB), Rs. 184,999(12GB/1TB), making it a compelling choice for early adopters and tech enthusiasts
Conclusion
In a world driven by innovation, the Samsung Galaxy Z Fold5 stands as a testament to human ingenuity. Its foldable design, robust display, unique camera capabilities and intuitive software experience make it a leader in the smartphone industry. The Galaxy Z Fold5 is the ultimate choice for those looking for cutting-edge technology and a device that pushes the boundaries of possibilities. Experience the future of smartphones today and open up a world of unlimited possibilities with the Samsung Galaxy Z Fold5.