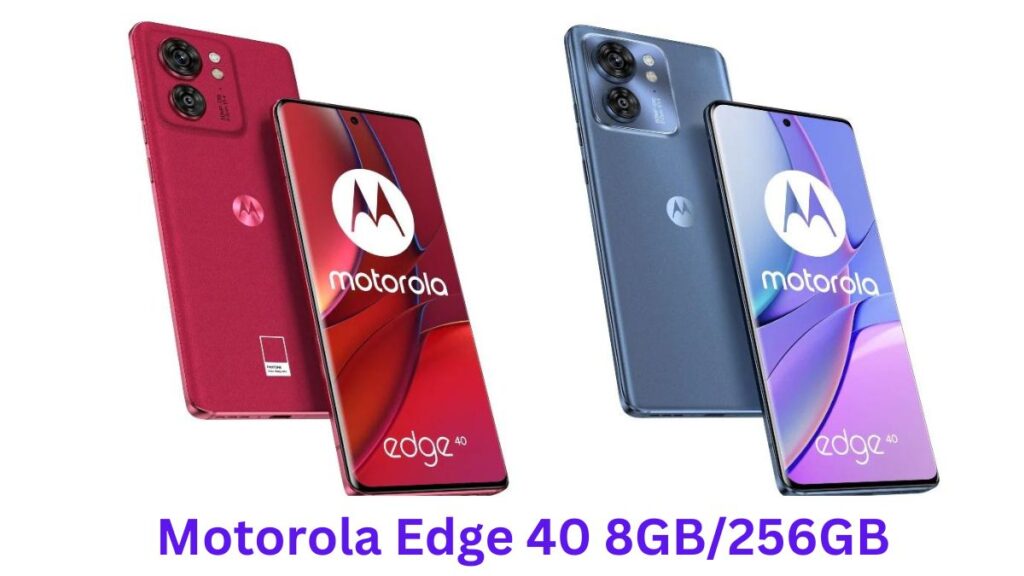 Price : Rs.- 24,999
Motorola Edge 40 Specifications:
Display : 6.5-inch(16.51cm) Full HD+ pOLED Display
Processor : Media-Tech Dimensity 8020 Processor
RAM : 8GB
Storage : 256GB
Operating System: Android 13
Network Support : 3G, 4G, 4G VOLTE, 5G
Rear Camera : 50MP + 13MP
Front Camera : 32 MP Selfie camera
Fingerprint : On Display
Battery : 4400mAh
Charger : 68W Turbo Charger, Wireless Charging Support
Connectivity : USB 2.0 Type-C, Bluetooth 5.2, Wi-Fi, Hotspot, GPS
Dimensions : W x H x D (71.99 x 158.43 x 7.58)mm
Weight : 171g
Color : Nebula Green, Lunar Blue, Eclipse Black, Viva Magenta
In the ever-evolving landscape of smartphones, Motorola has emerged as a beacon of innovation and reliability. The introduction of the Motorola Edge 40 signals a significant leap forward in the world of mobile technology. Through a perfect fusion of cutting-edge features and an elegant design, the Motorola Edge 40 is set to redefine the smartphone experience for users in India and beyond.
Sleek Design and Premium Build
The initial glance at the Motorola Edge 40 reveals a masterpiece of design. Crafted seamlessly from glass and metal, it emanates a premium aura. Its slender profile and ergonomic design not only ensure outstanding performance but also provide a comfortable grip, enhancing the user experience.
Immersive Visuals
The standout feature of the Motorola Edge 40 is its immersive display. Sporting a 6.5-inch 144 Hz 3D Curved pOLED Display with Full HD+ resolution, users are treated to a visual delight. The HDR10+ certification ensures vibrant colors, deep blacks, and sharp details, delivering a superior viewing experience, especially for high dynamic range content.
Powerful Performance
Under its hood, the Motorola Edge 40 houses the latest Media-Tech Dimensity 8020 processor, paired with a substantial 8GB of RAM and an ample 256GB storage. This powerhouse effortlessly handles multitasking, gaming, and resource-intensive applications, catering to mobile gamers, creative professionals, and business users alike.
Capture Every Moment
Motorola's expertise in camera technology shines through the Edge 40's dual-camera setup. Featuring a 50MP high-resolution primary sensor and a 13MP ultra-wide lens, users can capture moments with unparalleled detail. Whether it's sweeping landscapes, intimate portraits, or intricate macros, the Edge 40 delivers impressive results across various lighting conditions. Additionally, the device boasts a 32MP front camera, perfect for stunning selfies.
Enduring Battery Life
Recognizing the vital role of battery life, Motorola equipped the Edge 40 with a robust 4400mAh battery. Intelligent power management and 68W fast charging capabilities ensure users stay connected throughout the day, with minimal interruptions. Moreover, the phone supports 15W wireless charging, offering added convenience.
Intuitive Software Experience
Running on the latest Android 13 version with Motorola's user-friendly interface, the Edge 40 guarantees a seamless user experience. Regular software updates enhance the device's security and introduce users to the latest features and improvements, ensuring they stay ahead in the dynamic world of technology.
Motorola Edge 40 Price in India
Now, let's delve into the pricing details. The Motorola Edge 40 offers exceptional value, given its impressive features and specifications. Priced competitively at around Rs. 24,999 in India, it emerges as an appealing choice for users in search of a high-end smartphone without the burden of a hefty price tag.
Conclusion: Embracing the Future
In summary, the Motorola Edge 40 heralds a new era in the smartphone industry. Its striking design, immersive display, robust performance, exceptional camera capabilities, enduring battery life, and user-friendly software position it as a leading contender in the market. Whether you are a technology enthusiast, a professional, or an everyday user, the Motorola Edge 40 caters to your diverse needs, enhancing your smartphone experience to unprecedented levels.
For those seeking a smartphone that offers exceptional performance, reliability, and value, the Motorola Edge 40 is the ideal choice. With its introduction in India, Motorola reaffirms its reputation as a trusted name in the smartphone sector. Do not settle for anything less; upgrade to the Motorola Edge 40 and embrace the future of smartphones today.