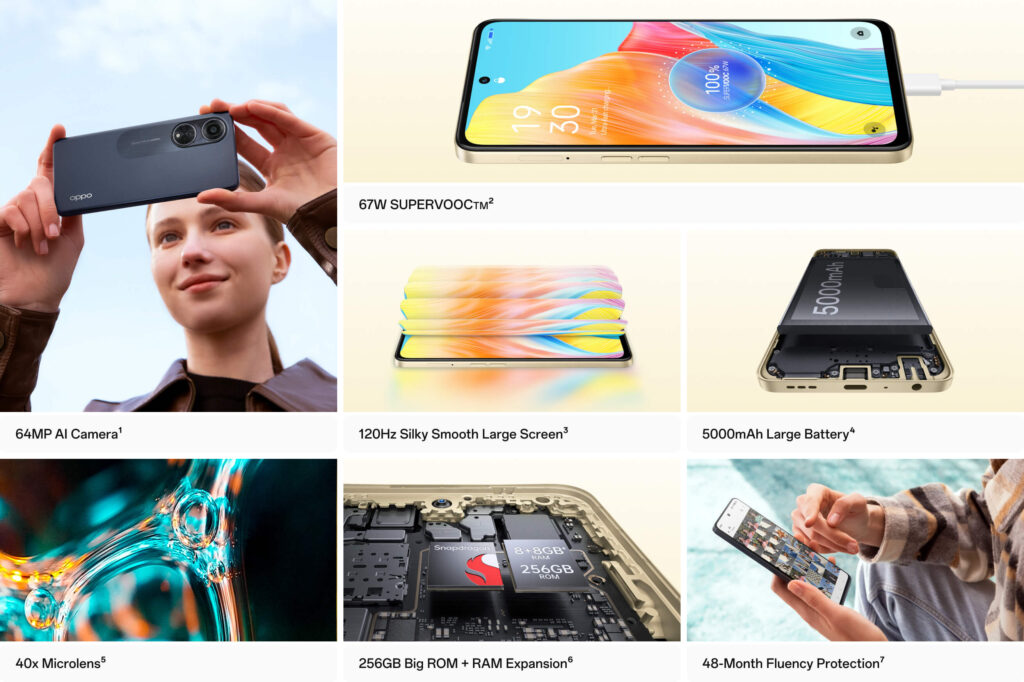 Oppo, the renowned Chinese smartphone manufacturer, has recently launched its much-anticipated smartphone, the Oppo F23 5G, in the vibrant Indian market. Packed with cutting-edge features and 5G capabilities, the Oppo F23 aims to provide users with a seamless and immersive smartphone experience.
One of the key highlights of the Oppo F23 5G is its stunning display. The smartphone boasts a large 6.72-inch IPS LCD with FHD+ resolution and a 120Hz refresh rate, delivering vibrant colors and sharp details. Whether you're watching videos, playing games, or browsing the web, the Oppo F23's display promises to offer a visually captivating experience.
Under the hood, the Oppo F23 5G is powered by a robust Snapdragon 695 chipset, ensuring smooth performance and efficient multitasking. This powerful chipset is complemented by a generous 8GB of RAM, enabling users to effortlessly switch between apps and handle resource-intensive tasks with ease.
When it comes to photography, the Oppo F23 5G excels with its versatile camera setup. The smartphone features a triple-camera system on the rear, consisting of a 64-megapixel primary sensor, an ultra-wide-angle lens, a macro lens. With these lenses, users can capture stunning photos and videos in various scenarios, ranging from breathtaking landscapes to detailed close-ups.
On the front, the Oppo F23 5G offers a 32-megapixel selfie camera, which is perfect for capturing beautiful self-portraits and engaging in video calls with loved ones.
To keep users connected throughout the day, the Oppo F23 5G houses a sizable 5000mAh battery that supports 67W fast charging technology. This means users can quickly recharge their device and get back to using it without any prolonged interruptions.
In terms of software, the Oppo F23 5G runs on the latest ColorOS 13.1, based on Android 13, offering a smooth and intuitive user experience. Additionally, the smartphone comes with ample storage of 256GB, ensuring users have enough space to store their files, apps, and media.
The price of Oppo F23 5G (8GB/256GB) at around $310(INR 25,000). Open sales in India start on 18 May 2023.
Overall, with its impressive features and 5G capabilities, the Oppo F23 5G is poised to be a popular choice among smartphone enthusiasts in India, providing them with a device that combines power, style, and connectivity in one sleek package.